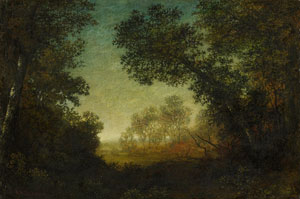 The Vista
NBI ID
:
211.I
Title
:
The Vista
Medium
:
oil on canvas
Dimensions
:
16 x 24
Signature
:
"R.A. Blakelock" lower left
Current Owner
:
Minneapolis Institute of Arts
URL of Owner
:
http://www.artsmia.org/
CityState
:
Minneapolis, MN
Date
:
Provenance
:
Artist; Harry W. Watrous c. 1893; Knoedler, 1917; Levy, 1917; Reinhardt, 1917; Mrs. John Washburn, Minneapolis, 1919; Mrs. Lyndon King, Minneapolis; gift to the Minneapolis Institute of Arts, 1947
Published
:
Bulletin, Minneapolis Institute of Arts, October 4, 1947, (Repr.); Whitney Cat. No. 30; Santa Barbara Cat. No. 57, (Repr., p. 59)
Exhibited
:
Whitney Museum of American Art, New York, 1847; Carleton College, Northfield, Minnesota, 1950; Art Galleries, University of California, Santa Barbara, 1969; Phoenix Art Museum, 1969; California Palace of the Legion of Honor, San Francisco, 1969; Heckscher Museum, Huntington, Long Island, 1969
Subject Description
:
An opening in a wood, framed right and left by tall trees, those from the right arching over the top of the picture. A secondary group of trees in the middle distance at the right, screens the lighted sky in the distance.
Condition
:
Generally good.
Infra-red
:
Clarifies detail in the foreground and in the framing foliage.
UltraViolet
:
Reveals extensive retouches in foreground and framing foliage.
Color
:
Foreground a deep brownish-black, middle ground a greenish yellow. The sky changes from white at horizon to a blue green at the apex.
X-ray
:
Additional Examination Notes
: