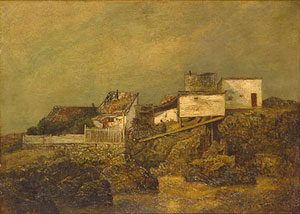 Old New York, Shanties at 55th Street and 7th Avenue
NBI ID
:
200.I
Title
:
Old New York, Shanties at 55th Street and 7th Avenue
Medium
:
oil on canvas
Dimensions
:
30 x 42
Signature
:
"R.A. Blakelock" lower right
Current Owner
:
Milwaukee Art Center
URL of Owner
:
http://www.mam.org/
CityState
:
Milwaukee, WI
Date
:
Provenance
:
Newhouse; Eliot Grant Fitch; gift to the Milwaukee Art Center in memory of John Grant Fitch, 1948
Published
:
Exhibited
:
Marquette University, Milwaukee, 1956; Des Moins Art Center, 1957; Newark Museum, 1957; Carnegie Institute, Pittsburg, 1957; Bergstrom Art Center, Neena, Wis., 1959; Santa Barbara, 1969; San Francisco, 1969; Phoenix, 1969; Huntington, 1969
Subject Description
:
A rocky landscape without trees. The ground line from right to left. A complex of buildings occupies the edge of the rising ground. A single female figure at center moving to the left, down a board-vault which connects the upper and lower groups of buildings.
Condition
:
Generally good.
Infra-red
:
Nothing of significance.
UltraViolet
:
Nothing of significance.
Color
:
The color is notable being a predominate greenish-yellow, with browns, blacks in foreground and roofs. The buildings are white. The single figure is blue (?). There is a touch of bright red in the garments hanging on a wash-line at the left. The sky is a grayed yellow and blue.
X-ray
:
Shows a definite build up of ground coat under foreground rocks and in building walls and roofs. One large paint loss in lower right center.
Additional Examination Notes
:
Our research indicates that this painting is one of a group depicting this subject. One, which is very close, but not identical, was included in the J.W. Barney sea at Parke-Bernet in 1946. Another, entitled "In Darkest New York" was in the G.B. Wilson sale at Parke-Bernet in 1954. A third, smaller but charming example, No. 39 in our inventory, belonging to the Des Moines Art Center.