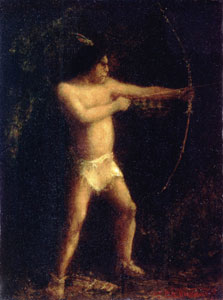 Hiawatha (Shooting the Arrow)
NBI ID
:
162.I
Title
:
Hiawatha (Shooting the Arrow)
Medium
:
oil on canvas
Dimensions
:
8 3/16 x 6 3/16
Signature
:
"R.A. Blakelock" lower right
Current Owner
:
Worcester Art Museum
URL of Owner
:
http://www.worcesterart.org/
CityState
:
Worcester, MA
Date
:
Provenance
:
F. S. Gibbs, 1901; AAA, 1904; Thomas R. Ball, New York; * * * *; Ralph Cudney, Chicago; Babcock, 1935; Mrs. George A. Bal, Muncie, Ind., 1935; Macbeth; Vose, 1938; Mrs. and Mr. Loring H. Dodd, Worcester, Mass., June 1939; Vose, Mrs. Howard W. Preston, Cranston, Mr. and Mrs. Stuart Riley; a gift to Worcester Art Museum, 1974
Published
:
Exhibited
:
National Academie of Design, 55th Annual Exhibition, New York, 1880; Lotots, 1902; Reinhardt, 1916; Whitney, 1947; Santa Barbra, 1969; San Francisco, 1969; Phoenix, 1969; Huntington, 1969
Subject Description
:
A figure of an Indian, nude except for loin cloth, sandals and a feather in his hair stands facing right and draws a bow and arrow. A quiver with arrows lies on the ground between his feet.
Condition
:
Generally good, surface obscured by deteriorated varnish. It is notable here that most of the modeling of the body is accomplished by scratching into the wet pigment. This technique most clearly seen in the fringed edge of the loin cloth.
Infra-red
:
Nothing of significance.
UltraViolet
:
Reveals some retouching in face, under side of straight arm, legs and some areas of background right.
Color
:
X-ray
:
Ground applied only under figure and light areas.
Additional Examination Notes
: